Donna Douglas

Frankie And Johnny, 1966

Real Name: Doris Smith
Born: September 26, 1933, in Pride, Louisiana.
Husbands: Roland Bourgeois (? - ? - divorced)
Robert Leeds (? - ? - divorced)
Died: January 1, 2015, in Baton Rouge, Louisiana.


| | |
| --- | --- |
| Donna Douglas is best known for her role as Ellie Mae Clampett on the '60's TV series, The Beverly Hillbillies, and she was tailor-made for the role. Raised on her grandparents farm in Louisiana, her only companions were her cousins (all boys) and the "critters". It wasn't much of a stretch to play Ellie Mae, who seemed to have two or three wild animals running around the mansion in every episode (I'm not counting Jethro). Donna moved to the outskirts of Baton Rouge while still a "young-un", and at the tender age of 17, headed for New York. She entered a beauty contest sponsored by the local newspaper industry called "Miss Byline" (!), and she won! This led to her appearance on Ed Sullivan's show, and a screen test. Hal Wallis apparently liked it, and signed her up. | |
| | |
| --- | --- |
| | She made a few appearances on TV shows in the 50's and early 60's, including Route 66, Checkmate, Dragnet and The Twilight Zone (the episode "Eye of the Beholder" is a classic!). This led to The Beverly Hillbillies, which was a huge success, and kept her busy for nine years! She made surprisingly few films, however. |
| | |
| --- | --- |
| In 1965, she and Elvis began filming Frankie And Johnny, based on the story of the folk-song. In this case, Elvis abandons all pretense of rock n roll (well, ok, so he abandons it even more than usual!), and attempts to make a standard Hollywood musical in the old tradition, which makes for some wierd moments, like "Look Out Broadway", "Chesay" and "Petunia, the Gardener's Daughter". Although the different versions of the title song throughout the film are pretty interesting, and of course there's the unabashedly-chauvinistic "What Every Woman Lives For". (Sample 'em in the soundtrack section below) Although Donna's a fine singer in her own right, for some reason her singing in the film was dubbed by Eileen Wilson. | |
Elvis was an avid reader of books on philosophy and religion, and the two stars found that they had a common interest. Between takes, they would discuss Christianity and talk about the different books they had read. When Elvis started getting interested in these kinds of books, he often consulted his friend, Larry Geller, who had an extensive collection, and they often discussed spiritual matters. I emailed Larry and asked him about Elvis' relationship with Donna, and here's his response:
Hi Greg,

During the filming of "Frankie & Johnny", Elvis and Donna Douglas became very friendly. Both were studying the works of Paramahansa Yogananda and were close to the president Daya Mata. At lunch and at breaks Elvis and Donna would get into some heavy spiritual conversations. They did have a lot in common, and several people thought sparks were flying. Even though Elvis respected Donna, he only regarded her in a professional capacity and held her in high esteem. I used to visit her in her dressing room, we would meditate and discuss various philosophic subjects that we shared.

Eventually, Donna moved on from those studies, and embraced a more fundamental version of Christianity.

I don't know if you've read a book I worked on with Jess Stearn "Elvis' Spiritual Journey". In it we discuss Elvis' relationship and spiritual connection with Donna.

I hope this helps. If there's anything else - just let me know.

Larry

As Larry points out, Donna was more of a mainstream Christian, especially as time went on after her film and TV career, and her public appearances were mainly Christian activities and events, and she recorded a few gospel albums. Donna was also on the board of the Country Legends Association, which promotes traditional country music. She also wrote a couple of childrens' books, and occasionally made herself available for personal appearances, but otherwise pretty much retired from show business after Beverly Hillbillies and Frankie and Johnny. She is sadly missed!

Miss Donna's Mulberry Acres Farm
Donna's own book for children!

Southern Favorites with a Taste of Hollywood
Donna's cookbook with recipes of hers and those of other celebrities!

Living Room Legends: A Chat With Donna Douglas
Kindle edition of an interview with Donna by Eddie Lucas.

Living Room Legends: Chats With TV's Famous Faces
by Eddie Lucas. Same interview w/ Donna, plus many others!

Beverly Hillbillies: A Fortieth Anniversary Wing Ding, by Stephen Cox.
The ultimate book on the series! Hundreds of photographs and loads of info!
| | | | |
| --- | --- | --- | --- |
| Beverly Hillbillies Comic Book #1, Kindle Edition | Beverly Hillbillies Comic Book #1, Paperback Reprint | Beverly Hillbillies Comic Book #2, Paperback Reprint | Beverly Hillbillies Comic Book #3, Paperback Reprint |
| | | |
| --- | --- | --- |
| Beverly Hillbillies Comic Book #4, Paperback Reprint | Beverly Hillbillies Comics Collection: Beverly Hillbillies #1-4 (1963-64), Paperback Reprint | Beverly Hillbillies: The Saga of Wildcat Creek, Hardback Original |
Click for larger image.
Donna Soundtracks and Other Stuff!
Get some Soundtrack music at Amazon!
Download Soundtrack music on iTunes!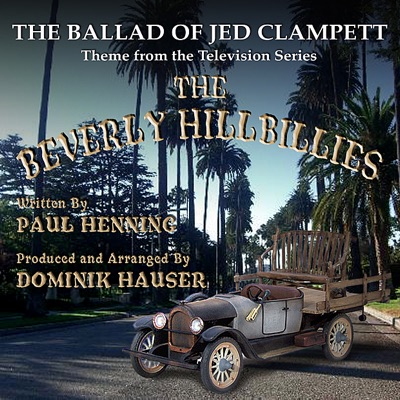 Search eBay for some Donna Douglas Stuff!
Shout It Out! Leave Us Your Comments About Donna Douglas!